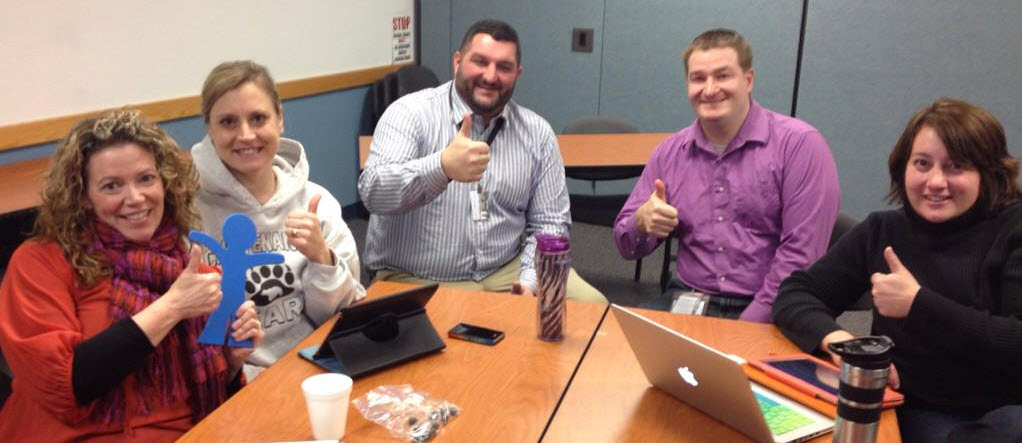 Schools across central New York were closed Feb. 16-20 for winter break, providing the perfect opportunity for teachers to attend professional development workshops at the CNYRIC. Nearly 30 educators, representing seven school districts and two BOCES, participated in at least one of the three workshops offered by the CNYRIC's instructional technologists. The half-day learning opportunities included Media Makeover with mediaCONNECT, Google Tools for Schools, and BYOD and the 1:1 Classroom. Each was well attended and received positive reviews from attendees.

Feedback from Attendees
"My mind is flying with the possibilities, while simultaneously thinking about what our teachers are going to need to successfully maximize the potential of Google apps for education, said Kathy Southwell. "Thanks for facilitating our thinking and learning this morning." Kathy is the Executive Director of Curriculum, Learning and Assessment at the East Syracuse Minoa Central School District.

"It was a great and informative class," said Debbie Cavino, a middle school teacher at the North Syracuse Central School District. "I love to hear how other districts and teachers are planning to use technology in their schools!"



Save the Date for ITD TALKS Event


Did you miss the February workshops? Or are you looking for another educational opportunity? Consider attending the CNYRIC'S upcoming ITD TALKS event: "Flipped Classroom in Action – A Panel Discussion" on Thursday, March 19. This is a follow-up to Flipped Classroom Pioneer Jon Bergmann's interactive workshop that took place this past October. Bergmann's day-long event drew more than 100 teachers and administrators – and lit the fire of many educators' desire to embrace a flipped classroom.

The March 19 half-day event will feature a panel discussion of middle and high school educators from local school districts who are actively flipping their classrooms. Together the group will address the successes and challenges they face in implementing the new approach to teaching and learning. Interested in attending? Please click here to register or contact Model Schools Coordinator Robert Leo for more information.