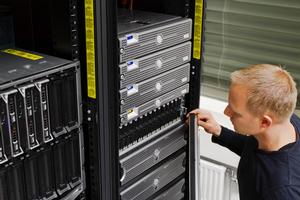 More than 30 districts currently participate in a CNYRIC service that supports their internal IT operations – and that number is expected to increase due to the expertise and value of the service offerings. The CNYRIC's

Managed Technical Support Service (MTSS)

is designed to provide districts with custom IT support ranging from technology leadership and network administration to project-specific and on-site hourly support.


"The combined knowledge base of our growing team of technologists enables us to provide districts with progressive, industry standard solutions that result in a more secure and effective technology deployment," said Joe Scott, manager of the CNYRIC's Managed Technical Support Service. "Additionally, our collaborative services help administrators reduce the total cost of technology ownership."



Fabius-Pompey School District prepares for strong future


Fabius-Pompey is an excellent example of a school district that has experienced the benefits of the CNYRIC's district IT support services. In 2014, the CNYRIC was contracted to virtualize the district's server farm. Utilizing Dell equipment and Microsoft's Hyper-V application, the number of physical servers was reduced from seven to two. This reduction in physical servers decreased the amount of maintenance and support required to keep servers functional, and greatly improved the district's ability to weather a server failure. In addition, the district's responsibility of purchasing new server hardware has been reduced by 70 percent.

"We provided installation of Fabius-Pompey's virtual server project from beginning to end, ensuring that the district's confidential files are safely stored in a fully DR integrated virtual environment," said Scott.

Additional services include Disaster Recovery, Remote Backup, Email Archiving, and more. The service provides a four-tiered approach in order to meet the needs of each unique school district. For more information about the CNYRIC's MTSS, contact Joe Scott at jscott@cnyric.org.