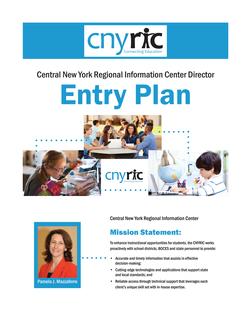 The Central New York Regional Information Center has a new leader. Director Pamela Mazzaferro began her new position Monday, Aug. 22.
Pam has developed and initiated a comprehensive entry plan for her first 90 days as director.
Click here to view the plan
. The plan outlines the goals, objectives, major activities, and timeline for the next three months. Pam's top priority is to meet with stakeholders throughout the region to listen, learn, and collect information. The gathered data will be used to create a proposed action plan that aims to positively impact the 100,000 students in the region.
"I look forward to meeting many educational leaders during the next few months," said Mazzaferro. "Together we can identify areas for improvement and work toward continued student success."
Q & A with Pam
Q:
Pamela or Pam?
A
: Pam
Q:
Favorite technology tool?
A:
Mobile devices and apps --they enable me to always stay connected and be productive.
Q:
iPhone or Android?
A:
iPhone
Q:
Mac or PC?
A:
Both. Throughout my career, I've used both and they each have their strengths. In technology, we all have preferences, but I think it's important to be receptive to new tools. I'm a hands-on learner and like to try everything. If there is new technology that has a purpose, I always like to investigate it.
Q:
Who was the most influential educator in your life?
A:
A director that I worked with for many years. To this day, when I'm faced with a tough decision, I will reflect on my experiences with him and ask myself how he would handle the situation. He taught me many great skills and was willing to push me past my comfort zone. Similarly, my second-grade teacher encouraged me to always reach for the stars. They both taught me to have the confidence to never settle for good enough.
Q:
What's your greatest professional accomplishment?
A:
I'm most proud of becoming the director of the CNYRIC. Earning this position is my greatest accomplishment to date, and my next greatest accomplishment will be continuing the success of this organization.
Q:
What's your greatest personal accomplishment?
A:
My family. I have a great husband, Frank, three wonderful children, and three adorable dogs. My son Frank, 32, works as an attorney in Manhattan.
Letitia, 29, is a registered nurse. She's currently a graduate student in Northeastern University's Nurse Anesthesia program. Brittany, 26, recently completed her first year as a teacher in the Syracuse City School District.
Q:
What are your immediate plans for the CNYRIC?
A:
I've developed and initiated a comprehensive entry plan for my first 90 days as director. Click here to view the plan. Essentially, I will listen to stakeholders, learn about areas for improvement, and then develop a plan that will have a positive impact on student learning, as well as support our districts and BOCES.
Q:
What are your top priorities?
A:
1. Meet with stakeholders;
2. Develop internal relationships with staff; and
3. Continue day to day business.
Pam welcomes your comments, thoughts, and suggestions. Contact Pam at
pmazzaferro@cnyric.org
or 315-431-8426.
Last updated on