District News
<< Previous Next >> Viewing 61 - 80 of 119 stories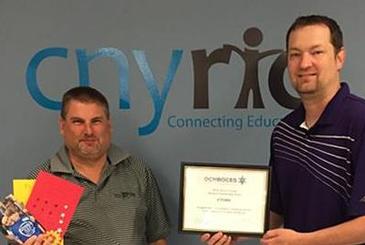 Data Center team members receive Work-Based Learning Business Partnership Award
Dave Osborn, operations shift supervisor for the CNYRIC's Data Center, received a call four years ago that changed everything. "A special education teacher from OCM BOCES contacted me to discuss having some of her students work in the Data Center," said Osborn. "Looking back, I didn't realize what an opportunity my team and I had been given." Over the past ...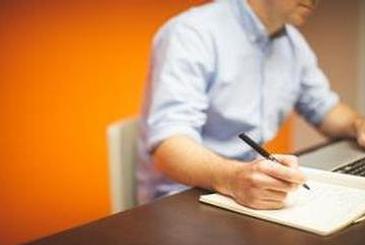 CNYRIC committed to the security of school districts' private information
Social Security numbers, email addresses, and student health details are just a few examples of the private information the Central New York Regional Information Center (CNYRIC) handles on behalf of 50 school districts and four BOCES. In addition to the organization's commitment to improving student learning, the CNYRIC places the highest importance on the security of its clients' private information. The CNYRIC plans to conduct ...

Final AIMSweb/STAR User Groups and RTI PLC of the school year happening Friday, June 10
The CNYRIC Data Warehouse team is hosting the final AIMSweb/STAR User Groups and RTI PLC of the 2015-16 school year on Friday, June 10. The goal of each session is to bring together educators from the region to discuss the effective use of data and assessment to improve instruction and student learning. Below are the links to register for each session in My Learning Plan. Please note that the schedule has shifted slightly from the past, with the ...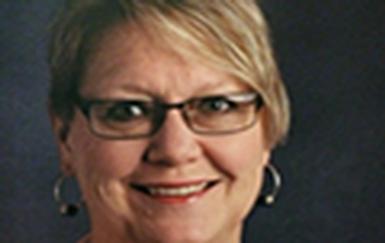 Meet our Featured Teacher: Penny Feeney
"Technology, like art, is a soaring exercise of the human imagination." Daniel Bell Penny Feeney Library Media Specialist Onondaga Hill Middle Schools Westhill Central School District Congratulations to our June 2016 Featured Teacher Penny Feeney. Penny is the School Media Specialist at Onondaga ...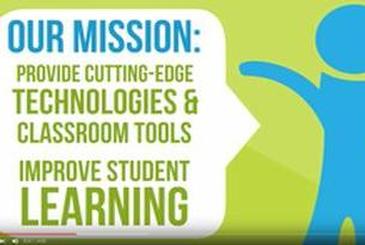 Watch the 'About the CNYRIC' video
Test scoring. Instructional technology. Professional development. Report card printing. The Central New York Regional Information Center (CNYRIC) provides more than 100 diverse services to school districts and BOCES throughout Central N ew York, all in an effort to support student learning. "It can be challenging to encapsulate what the CNYRIC does because we offer such a wide range of services," said Inte ...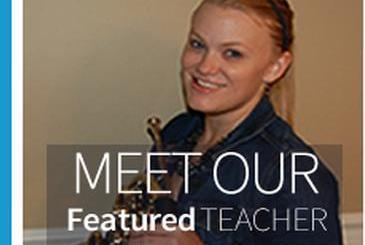 Meet our Featured Teacher: Ellen Lefort
"iDoceo has changed the way I teach and plan. I am able to spend much less time on busy work and organization, which frees me up to focus on content and student learning." Ellen Lefort Music Teacher Onondaga Nation School LaFayette Central School District Congratulations to our May 2016 Featured Teacher Ellen ...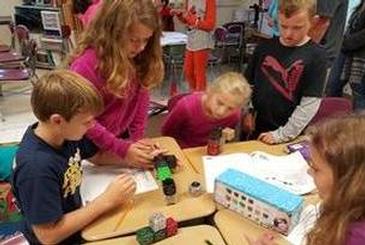 Critical Thinking Through Coding pilot program inspires student learning
Ten Central New York school districts participated in the CNYRIC's Critical Thinking Through Coding (CTTC) pilot program during the 2015-2016 school year. For one-month increments, districts received access to a variety of robotic devices, CTTC curriculum, and onsite instructional technology support. The program was used in kindergarten through eighth-grade classrooms, but can be adapted for all grade levels. As a ...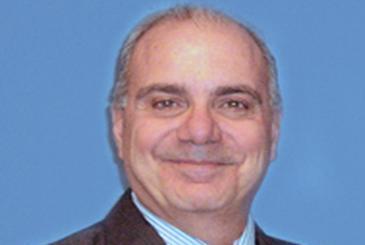 Peter Ciarelli to serve as interim chief technology officer
The Central New York Regional Information Center (CNYRIC) is under new leadership following the retirement of former Chief Technology Officer Mike Fay. With nearly 40 years of experience in education, Peter Ciarelli has been appointed interim director of the organization and begins his new role today. "Mr. Ciarelli is highly qualified and respected in the area," said OCM BOCES District Superintendent Jody Manning. "He ...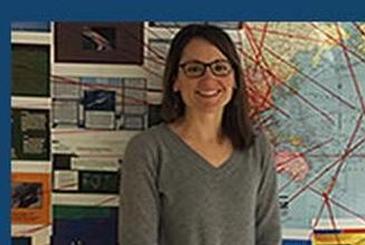 Meet our Featured Teacher - Katie Clift
"Despite CAD and 3D printing being new technologies to her, Katie enthusiastically met the challenge to provide this experience to her students." Katherine Clift Seventh Grade Science Teacher Camillus Middle School West Genesee Central School District Congratulations to our April 2016 Featured Teacher ...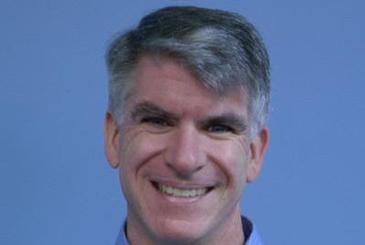 Jeremy Dodds selected as new program manager
The CNYRIC is pleased to announce that Jeremy Dodds has been selected as the organization's new Project Manager for the Data Warehouse, Test Scoring, and Programming departments. He replaces Don DeJohn, who recently retired after a long career at the RIC. With 20 years of experience in the education industry as an educator and math and science coordinator, Dodds brings a variety of knowledge and skills to the leadership ...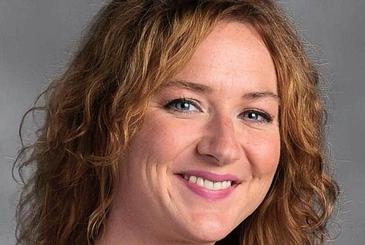 Meet our Featured Teacher: Krysten Balfe
Krysten Balfe 5th & 6th Grade Teacher Rome Catholic Elementary School Syracuse Diocese Schools Congratulations to our March 2016 Featured Teacher Krysten Balfe, a fifth and sixth grade teacher at Rome Catholic Elementary in the Syracuse Diocese . Krysten has taught at the school for the past four years. What are some ...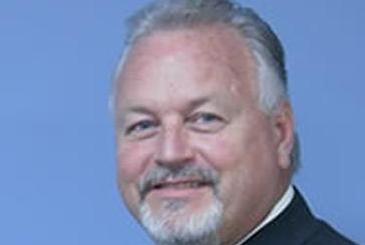 Chief Technology Officer Michael J. Fay announces retirement
The Central New York Regional Information Center (CNYRIC) celebrates the career of Chief Technology Officer Michael Fay who recently announced his retirement. Fay plans to conclude his nearly 30-year career as an education administrator this March. Since 2004, Fay has served as the CNYRIC's leader, overseeing a broad range of services for 50 school districts across four BOCES regions. During his tenure, Fay's strategic vision has ...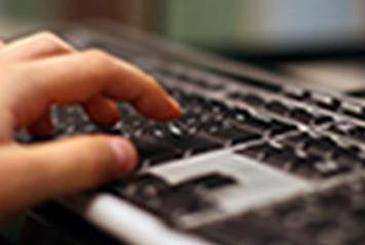 Test scoring team prepares 30 districts for Computer-Based Field Testing
Thirty school districts in the CNYRIC's region have elected to administer Computer-Based Field Testing (CBT) for the upcoming ELA and Mathematics assessments. This year districts have the option of using computers for these statewide exams (Science will continue in the same format as in past years). The New York State Education Department (NYSED) plans to transition to exclusive CBT by 2020. How will CBT work? Each ...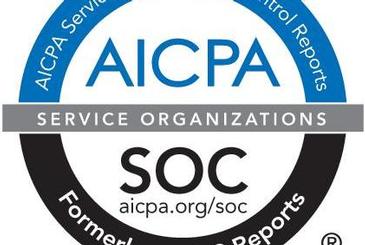 CNYRIC earns SOC II certification following year-long audit
The CNYR IC is proud to announce it recently earned Service Organization Control (SOC) II certification , following the completion of a year-long, thorough SOC audit. Conducted by independent accounting firm Mountjoy Chilton Medley, LLP , the audit included extensive review of all CNYRIC data systems used to contain and manage school district information. "The SOC audit was an excellent opportunity to confirm the ...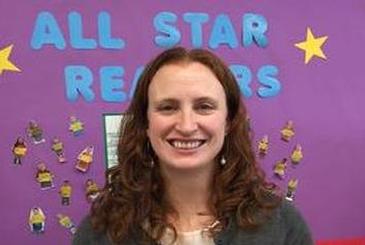 Meet February's Featured Teacher: Jennifer Woody
"When students design math sentences to be shared with the class via Google Classroom, they are working at the highest level of Bloom's Taxonomy." Jennifer Woody 3rd Grade Teacher Freemont Elementary School East Syracuse Minoa Schools Congratulations to this month's Featured Teacher, Jennifer Woody. Jen teaches Grade 3 at Fremont Elementary Schoo ...

Meet January's Featured Teacher - Brian VanGorder
"All students in his classroom maintain a Weebly digital portfolio where they store and reflect on the classroom work in ELA, Math, Social Studies, Science and Art. The students also keep a digital journal and maintain their own blog as part of their online portfolio." Brian VanGorder 5th Grade Caroline ...

Meet December's Featured Teacher - Amoreena Tellaeche
"Students had a hands-on opportunity to learn that there is more than one way to solve a problem and that they will need stamina and critical thinking to see it through." Amoreena Tellaeche 4th - 6th Grade Virgil Elementary School Cortland Enlarged City School District Congratulations to our December ...

Meet November's Featured Teacher - Micah Shippee
"As instructional designers, teachers are bridge builders, striving to bridge the gap between students and content. Emergent technology provides educators with a perfect tool to construct projects and lessons that appeal to students and reach their needs." Micah Shippee 7th Grade Social Studies Teacher Liverpool Middle ...

Meet October's Featured Teacher - Sara Hughes
Students benefit from her "just don't give them the fish" approach to teaching as her expectation is that students will OWN their OWN learning and strive for success not just wait for the answers. Sara Hughes 7th Grade Social Studies Pine Grove Middle School East Syracuse Minoa Central School District Congratulations to our October 2015 Featured ...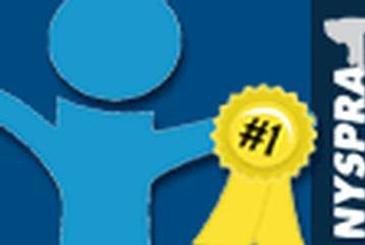 CNYRIC Wins NYSPRA Awards
The Central New York Regional Information Center (CNYRIC) was recently the recipient of three public relations awards given annually by the New York State Public Relations Association (NYSPRA). The CNYRIC won two awards in the website category for our work on the Union Springs School District website and our own CNYRIC website. Only five awards were handed out in the website category and the CNYRIC earned the top two spots with ...
<< Previous Next >> Viewing 61 - 80 of 119 stories