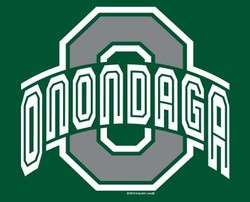 Our Data Warehouse team is pleased to continue the "School District Spotlight," an initiative to showcase districts that embrace data. This October we celebrate the Onondaga Central School District (OCS).

Embracing Data to Improve Learning Environment
Throughout the past year, OCS took steps to evaluate how to best use data to inform district-wide decisions and improve the learning environment for staff members and students. Recent initiatives introduced some new practices that capitalize upon the use of data, but also aim to build upon existing processes that have been successful for teachers in the past.



Collaborative Goal-Setting


During the 2013-14 school year, the district leadership provided multiple opportunities to formally collect input from teachers and staff to guide goal-setting and future planning. In one example, Data Coordinators from CNYRIC assisted the district in their reevaluation of current Response to Intervention (RTI) practices. The team customized an RTI Audit for OCS, and led the administration of a K-12 survey and teacher focus groups. Both the survey and focus groups collected information about the current practices, resources, and needs related to core instruction, data usage, assessments, collaborative opportunities, and more. Data coordinators analyzed and shared the data and with the OCS administrative team at their summer retreat. The administrative team used these results to guide their thinking about district/building goals, professional development needs, scheduling, etc. This use of data allowed the district to develop meaningful next steps based on evidence provided by their own staff members.



Using Student Data to Improve Interventions and Instruction


At an instructional level, teacher teams continue to make use of student data to better provide interventions and instruction that meet the needs of each child. Classroom teachers, AIS teachers, and SPED teachers work in collaboration to discuss students, often using data and evidence to drive their dialogue and decisions. Their use of data ranges from the use of local assessments, classroom observations, or performance on AIMSweb screening measures (currently in their first year of use for all students in grades K-8). The district strives to make this use of instructional data consistent and useful to teachers, helping to assess not only student growth, but the effectiveness of specific instructional practices.



Housing and Reporting Accurate Data


OCS is also a great example of a district that puts great effort into housing and reporting accurate data to the state. The CNYRIC Data Coordinators continue to work with and support staff in the buildings and district office to ensure that data is correct in the multiple systems (SIS, IEPDirect, etc.). The OCS staff is always open to shifting existing protocols and processes in order to ensure clean and accurate data.
OCS continues to make steps forward in the effective use of data for improvement.



Share Your Success Story


Know a district using data to improve student learning? Are YOU the type of district using data to inform decision-making and improve student outcomes? Recommend a "Featured District" so we can recognize and celebrate great work in the area of data-driven instruction! Contact Lori DeForest at ldeforest@cnyric.org.