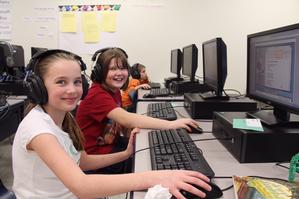 Our
Data Warehouse team
is pleased to present the
Altmar Parish Williamstown (APW) Central School District
with this month's "School District Spotlight." APW is located on the southern side of the Tug Hill Plateau in Oswego County and serves approximately 1,300 students.
The APW Central School District has experienced many exciting changes this school year, including the arrival of new Superintendent Ms. Anita Murphy. Under the Board of Education's direction and Ms. Murphy's leadership, the district has taken on a number of new initiatives that are already having a positive impact on students and the community. Included among them are a revised APPR plan, utilization of Education Resource Strategies funding, blended learning, APW Backpack, and much more.
Here's an overview of some of the improvements underway at APW Central School District:
The district is committed to improving student achievement. To date, the district revised its APPR plan, with the APW Faculty Association, that went into effect September 2014; utilizing informal walk-throughs that focus on best practices to increase student achievement. Teachers also used prior academic history to set Student Learning Objectives (SLOs), thus decreasing testing for students K – 12. Additionally, K-12 teachers are revising curriculum, focusing on the Common Core Standards, while adapting the modules.
Also in September 2014, the district embarked on a project with Education Resource Strategies (ERS) and the New York State Education Department (NYSED). The project looks at funding educational priorities and will help enable APW to fund the board's educational priorities. APW is one of eight districts involved in this study. Together, the districts will share common findings and discuss potential actions based upon the findings.
During the 2013-14 school year, the district began a Blended Learning project with their seventh and eighth grade social studies and science teachers. Following a successful first year of the project, the district continued with a second cohort of Blended Learning classrooms by adding ninth grade social studies, foreign language, and health this school year.
The APW Board of Education, in partnership with Superintendent Murphy, started monthly board committee meetings in September 2014. The Finance Committee, Long Range Planning Committee and Excellence in Student Achievement Committee are designed to bring Board of Education representatives and interested community members together to work for the good of the students and community.
In January 2015, the district started the APW Backpack program. This program, which is funded and run solely by teachers, staff, and district administration, helps to feed 55 families (about 110 students) on weekends and extended school breaks.
APW is one of nine Oswego County Districts collaborating with the Coalition to Combat Adolescent Substance Abuse in Oswego County. In addition to the Oswego County schools, the coalition consists of County of Oswego Council on Alcoholism and Addictions, Farnham Family Services, SUNY Oswego, local authorities, and NYS Senator Patty Ritchie.
APW is working with the National Center for Time and Learning to develop an extended school day and school year program designed to increase opportunities available to their students. As a result, the district has added a STEM Robotics program in conjunction with Clarkson University. Additionally, APW started collaborating with Lockheed Martin to increase STEM opportunities for their students. This summer the district plans to kick off a STEM summer extended learning program.
APW has placed a strong emphasis on college readiness. Superintendent Murphy established a scholarship fund that she funds when all faculty and staff wear college apparel on district paydays. Additionally, the superintendent, along with other faculty members, is taking juniors and seniors on college visits. Students are required to research a program of study, find colleges within NYS, and obtain permission to have the district transport them to visit various colleges.
"The faculty and staff at APW are building a culture of excellence in order to ensure that all APW students are college and career ready when they graduate," said Superintendent Murphy. "We embrace what our students and community have to offer and are positioned to be a premier district in NYS."