Featured Teachers: Katrina Ercole & Maureen Manke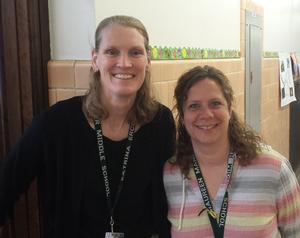 5th Grade, Driver Middle School, Marcellus

Central School District



What does a 21st-century classroom look like? Step inside Katrina Ercole and Maureen Manke's 5th grade wing at Driver Middle School for the answer. The pair co-teach and regularly integrate a wide variety of technology into their daily curriculum. From SMART Board utilization and Google Docs collaboration to interactive cross-country video conferencing, the duo empowers their students on a daily basis. Katrina has 11 years of teaching experience, all of which have been spent working in Marcellus. Maureen Manke is a Special Educator with 16 years of teaching experience, seven of which have been spent in Marcellus.



What are some of the innovative ways you are integrating technology into your curriculum?





Katrina Ercole and Maureen Manke have leveraged a variety of digital tools to support teaching and learning in the Marcellus Central School District. Katrina and Maureen utilize the Smartboard in their rooms for every subject area. Student worksheets and journal pages are displayed, as well as learning targets and directions. Students are able to follow along visually as well as look back if they need reminders.

Marcellus Central Schools

has adopted Google Apps for Education (GAFE) to support collaboration across the district. Katrina and Maureen's students are proficient in using Google Docs to collaborate with one another as well as turn in assignments electronically. Students have access to a wide variety of hardware to leverage Google's cloud-based tools, including desktop computers, Chromebooks, netbooks, and iPads. Further, they leverage several Web 2.0 sites to demonstrate their content knowledge, creating projects on PowToon and Glogster, as well as practicing essential math and language arts skills using IXL, Ben's Guide to Government, and Cool Math. The use of iPads has allowed for the reinforcement of material through games and has supported speech-to-text accommodations using Dragon Dictation for students with a written expression disability. Of course the iPads have also been an outstanding engagement tool to motivate all students to learn using a variety of education apps. Edmodo serves as a hub for the students to share information, complete assessments, provide feedback, and access instructional videos. Further, assignments are posted where students with reading disabilities can access audio versions of the Scholastic News and Social Studies newspapers. Katrina and Maureen have also taken advantage of the CNYRIC's Video Conferencing service, participating in several content provider programs for social studies including programs on The Transcontinental Railroad, The Trail of Tears and a comparison of Mexican culture with American culture. They have also collaborated with another fifth grade class in Clyde Savannah to share two voice poems created in a NYS ELA module in support of the Common Core Learning Standards. Students also participated in the "Where is this Great American State" collaboration where they were paired with another fifth grade class in Wisconsin. Students connected via video conference and gave each other clues about their city and state. They then took about 30 minutes to research each other's clues and then reconnected to see if they could guess each other's location.

How have students benefited from your technology integration initiatives?

Katrina and Maureen believe that all students benefit from the use of cutting-edge instructional technology as it engages students, fosters a desire to learn, and provides more access to the curriculum for students with disabilities. Students feel empowered and realize that they are capable and are more able to complete grade level work. Students today are motivated by technology and work more independently when they are in control of their learning. Students then collaborate with each other and their teachers which solidifies that which they have learned.


Nominate a Featured Teacher

Do you know an educator worthy of our "Featured Teacher" accolade? Click here to submit a nomination.