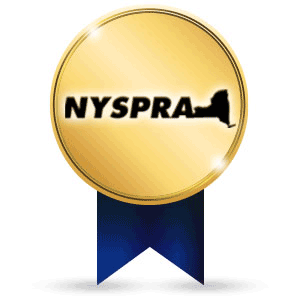 September 2017 - The Central New York Regional Information Center (CNYRIC) is the proud recipient of six 2017 New York School Public Relations Association (NYSPRA) Communications Contest Awards. The CNYRIC earned awards for the following areas:
Budget/Bond Newsletter (Lansing Central School District, 2017-2018 Budget Newsletter)
Calendar (Union Springs Central School District, 2016-17 District Calendar)
Community Newsletter (Lansing Central School District, Fall 2016 and Spring 2017 Community Newsletters)
Excellence in Writing (Solvay Union Free School District, "Solvay UFSD rocks the bald and raises $24,697.42 for St. Baldrick's")
Overall Graphics and Design (CNYRIC, Digital Signage Displays)
Overall Graphics and Design (Syracuse City School District, Homepage Graphic Ads)
NYSPRA will present all awards at the annual New York State School Boards Association convention on Oct. 13 in Lake Placid. To learn more about the CNYRIC's e-Communications services, including website design, graphic design, and remote and on-site public relations, please go to www.cnyric.org/e-communications.
Last updated on