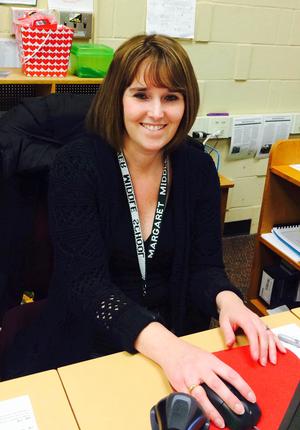 With more than 12 years of teaching experience, Margaret Middleton is the Library Media Specialist at K.C. Heffernan (K-3) for the Marcellus Central School District. Margaret joined Marcellus CSD in 2012, following nine years working for the Fulton City School District as a special education teacher.

What are some of the innovative ways that Margaret integrates technology into her curriculum?
Margaret is a video conferencing champion. She actively promotes the benefits of video conferencing to her school's educators in an effort to incorporate distance learning into every classroom. To help spread the word to teachers about the power of video conferencing, Margaret created this public service announcement. Her efforts have paid off, as nearly every teacher at K. C. Heffernan has incorporated a video conference into a lesson this school year. "My goal is to have every child in the school experience at least one video conference per year," said Margaret. "The more teachers that participate, the more value they see in video conferencing."

Becoming a video conferencing expert
Margaret worked with the CNYRIC's eLearning Coordinator Amy Spath to learn how to support her teachers with video conferencing. Through the eLearning service, Amy worked with Margaret and a small group of Marcellus teachers to familiarize them with the equipment and resources available for distance learning collaborative projects.

It has become Margaret's mission to be the expert in finding the perfect video conference for each teacher. She has become very familiar with each grade level's curriculum so that she can help find appropriate opportunities. Margaret proactively reaches out to teachers via email and individually to promote distance learning opportunities. "I meet with each teacher one-on-one to ensure that they feel comfortable with the distance learning process. My goal is to have teachers recognize the true value of video conferencing -- whether they schedule a content provider or find a class to collaborate with, I want the teachers and students to benefit from the experience."



How have students benefited from Margaret's technology integration initiatives?

Together, Margaret and Katrina Ercole (from C. S. Driver Middle School at Marcellus CSD) submitted an application for a mini grant from their district to pilot video conferencing in their buildings. They had 18 elementary and middle school teachers participate in the program. After the pilot was completed, teachers felt that their students were engaged and excited about learning due to their participation in the video conferences. Students felt that it was a fun and interesting way to learn. During the 2013 - 2014 school year, classes from DMS and KCH participated in 32 video conferences collectively and of those 32, most of the opportunities were free.

Currently, Margaret and Amy continue to stay in contact regarding video conferencing opportunities. Click

here

to view more information about the CNYRIC's eLearning service.

. . . . . .