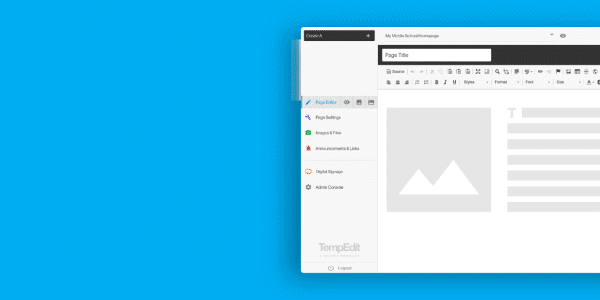 The Central New York Regional Information Center (CNYRIC) is proud to announce the newest iteration of its TempEdit web editor! Heavily influenced by user feedback, the CNYRIC's design team has revamped the TempEdit product to make it even more user-friendly. The new TempEdit features a more organized layout that streamlines the ways in which you complete your most frequently-performed tasks, providing your district with easy-to-use tools that will help satisfy your unique webpage needs.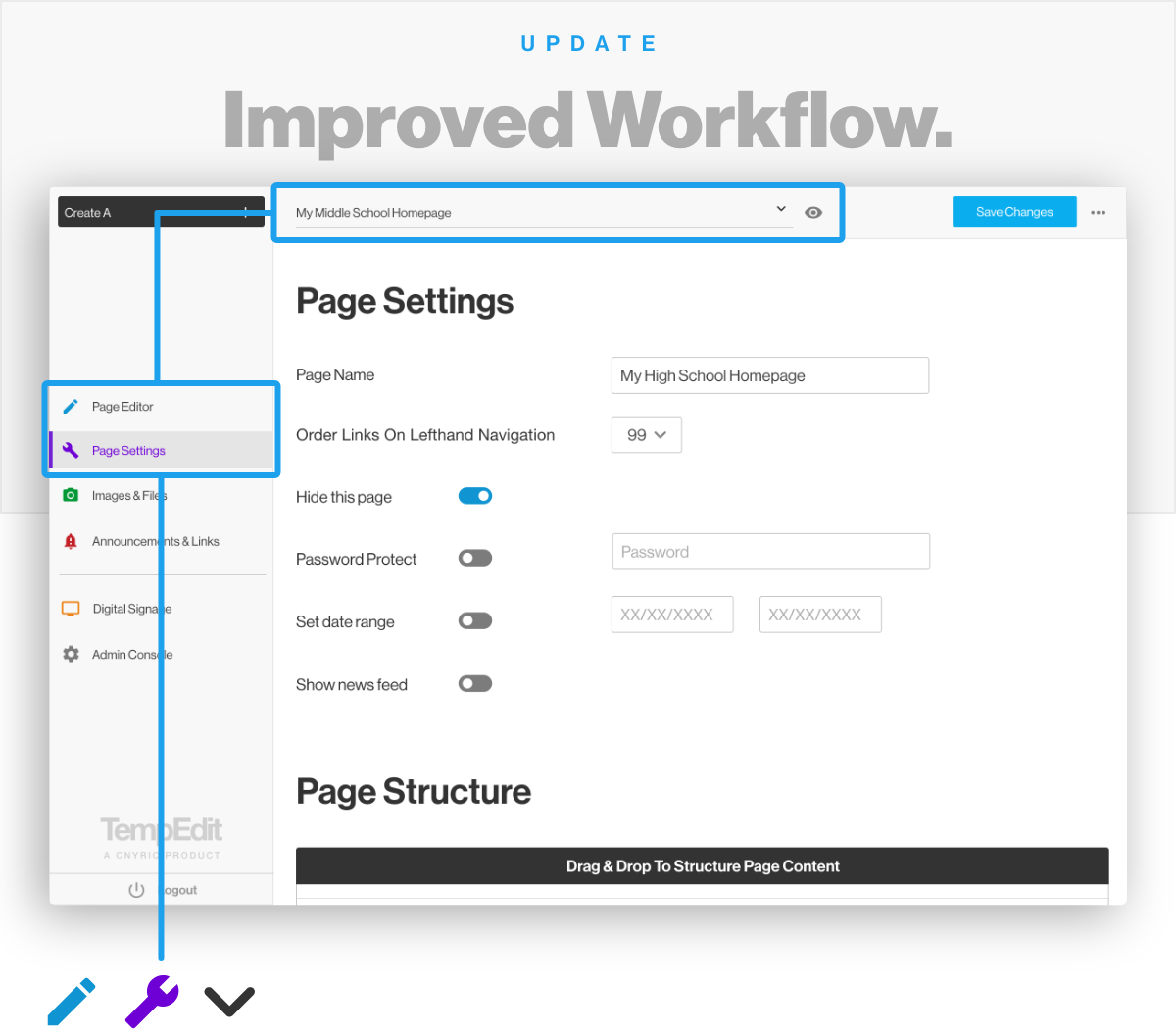 Whether you're a new or longtime user, these changes will help you build your pages with greater ease than ever before. Now, your webpage's settings are tied to one universal page selector, which means you'll be able to jump between your page's content and settings modes quickly, instead of having to navigate to different areas of the website.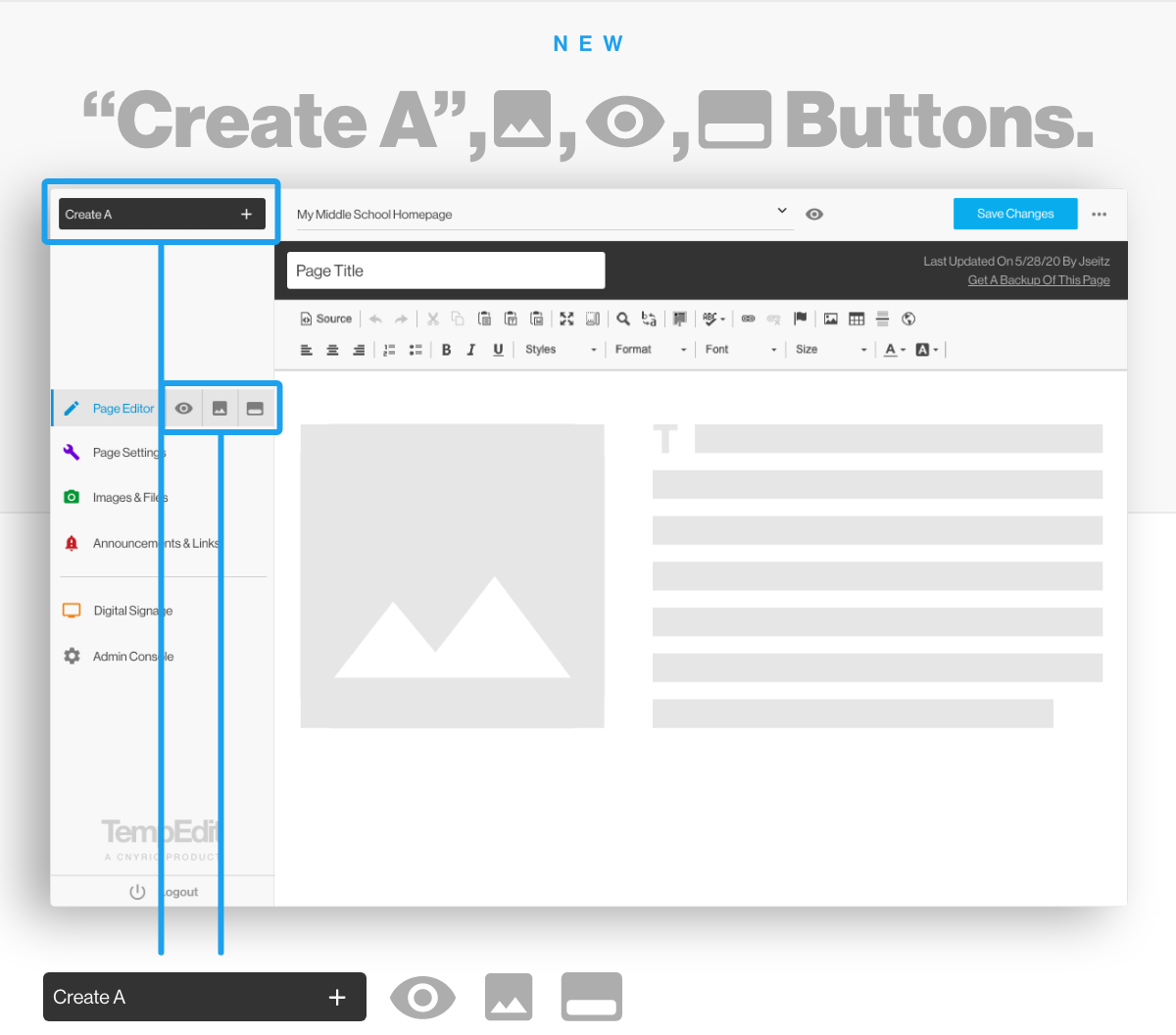 Some new buttons have been added to the editor as well, and creating new pages is now performed from a single place. We call it the "Create A" button, and from here, you'll create new pages, news stories, and links to outside websites. Buttons to the left of the page editor tab allow you to view your page, access your Images & Files, and even open up a second editor window.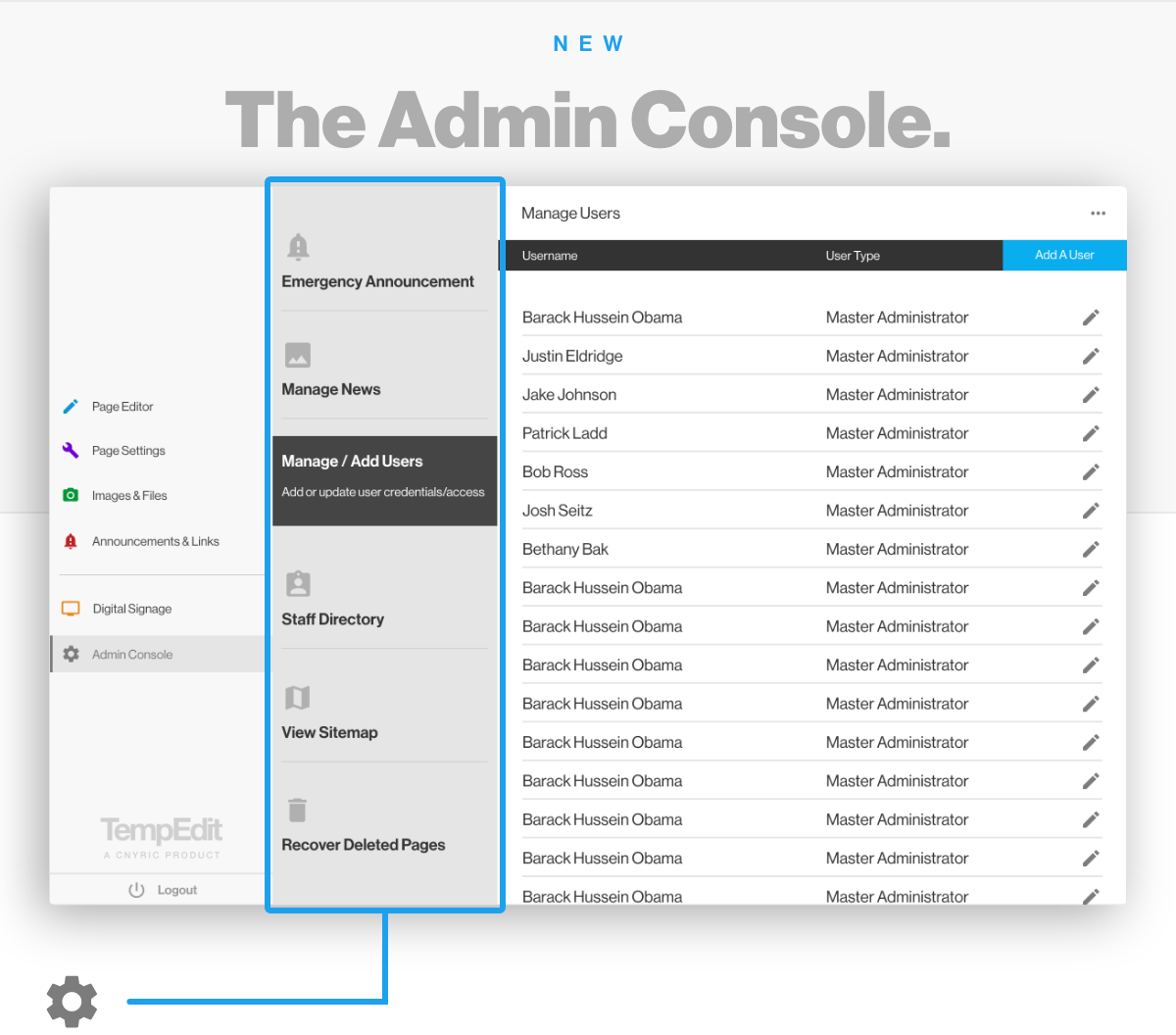 School administrators can now control everything they need to from one centralized area via the new Admin Console. From here, emergency announcements can quickly be published to the homepage, users can be added, or your staff directory can be updated. The improved sitemap can provide you with a bird's-eye view of all your district pages. Deleted pages can be recovered. From the new Admin Console, you better manage the content that appears on your homepage.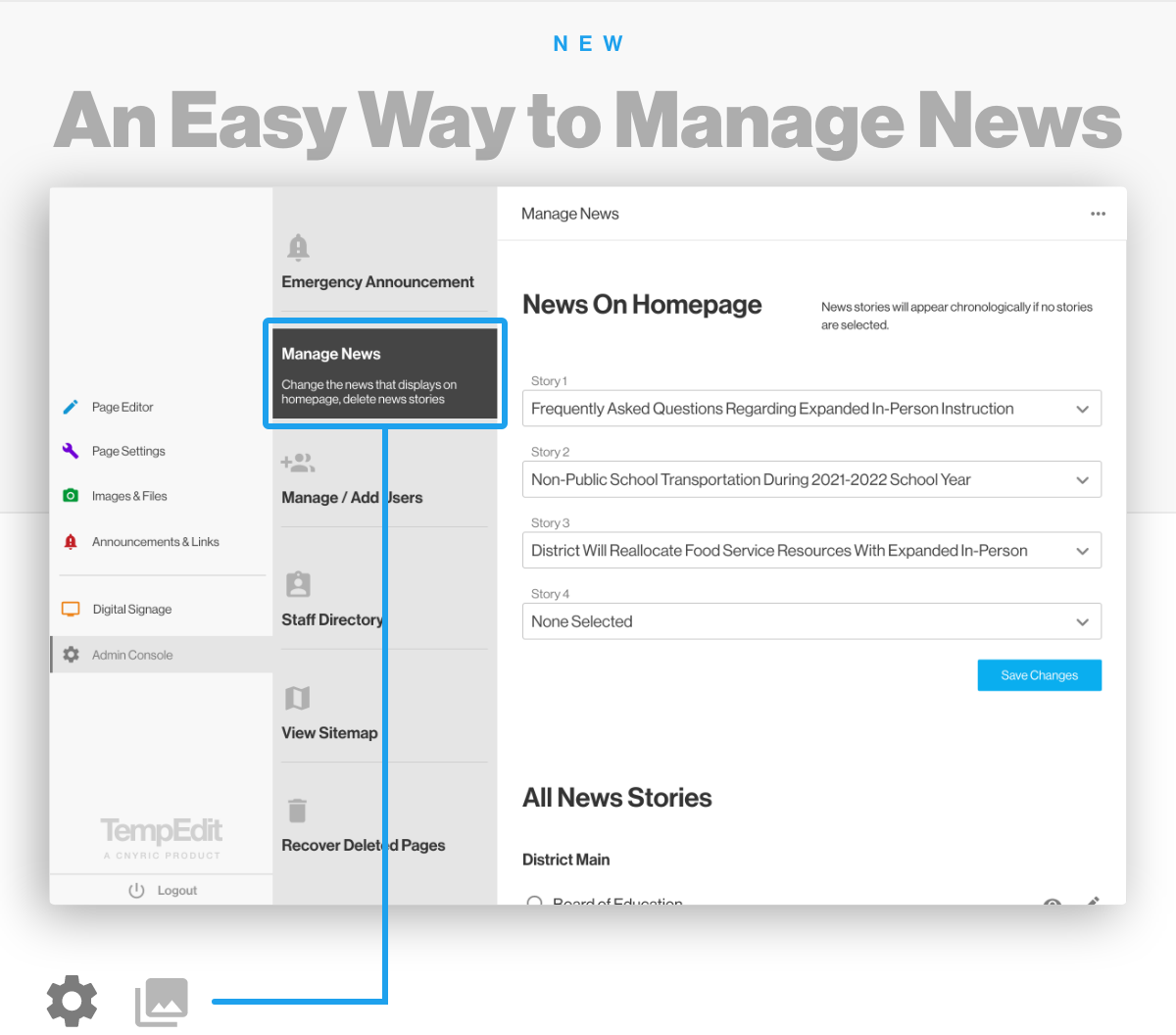 With the Admin Console, you'll also have even greater control over the news that appears on your homepage. No more "pin to top;" simply select the news stories that you would like to appear on your homepage, in the order which you would like them to appear. Want them to appear chronologically? Just leave these selections blank. You can also see a full list of all of your news stories, making them even easier to find.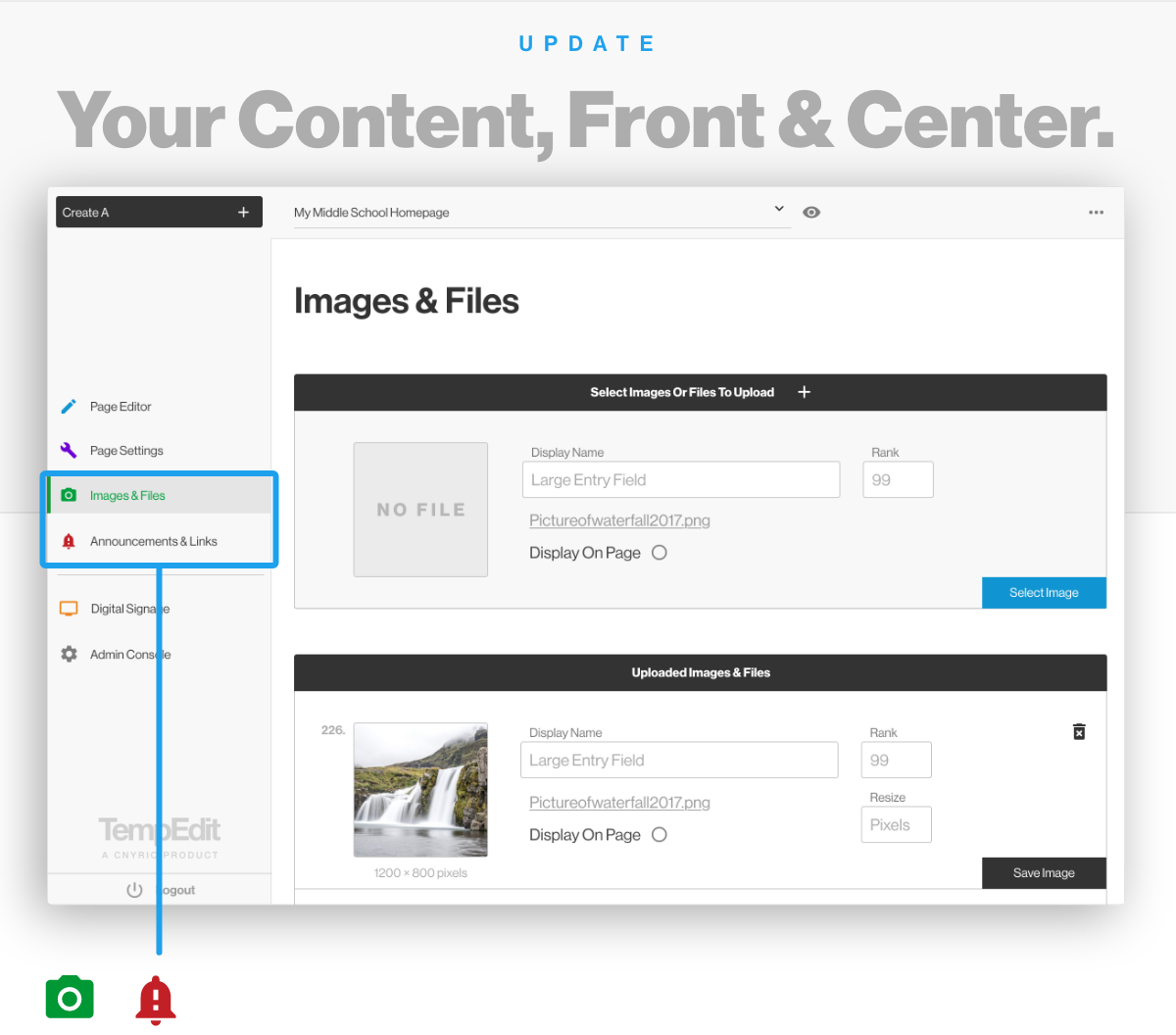 Images & Files are now housed in the same space, which means that uploading, viewing, and managing your images and files has never been easier. Announcements & Links are easy to locate and update. Both sections feature new layouts that are content-forward, so you can quickly focus on what's important.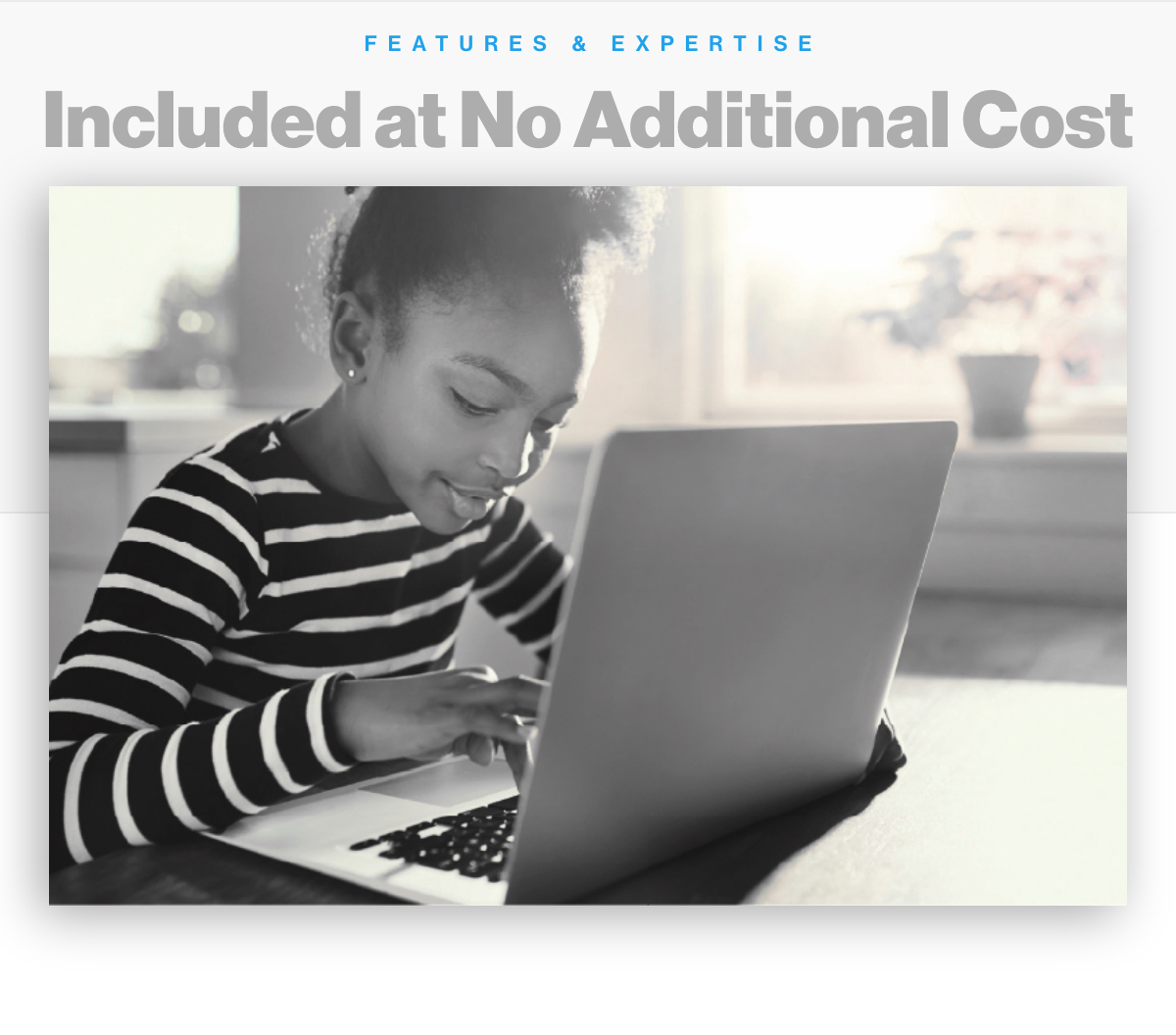 Integrate Messages


Integrate your mass notifications directly into your website with the ParentSquare communication tool

Responsive Websites


We build websites that are functional and efficient on laptops, tablets, and phones

ADA Compliance


We provide your district with best practices and training to make your website accessible to all

Google Integration


One-click sign on with your existing Google account means one less password to remember

Periodic Redesigns


Redesigns are available as part of the base service, and are catered to meet your unique needs

Live Support


Our service includes on-demand phone and email support during regular business hours
We're excited about the newest version of TempEdit, and we think you will be too. For more information on the product, please contact Josh Seitz by email, or at 315.431.8483